This article refers to the LinkShare options on your releases in your TuneCore discography. For details about linkShare through TuneCore Social Pro, check out this article.
LinkShare lets you direct your fans straight to your singles once they go live on some of the most popular digital stores! It's easy for you to create and easy for them to use!
Are all of my releases eligible for LinkShare?
Currently, the only releases eligible for LinkShare are singles that are actively live (playable) on at least one of the eligible digital stores.
Albums, Social Platform-only releases, and singles that are not yet live will not be eligible for LinkShare. Once your single goes live in at least one of the LinkShare stores, the page will be active with that link!
What stores will appear on my LinkShare page?
Links to your release in the following stores will appear on your LinkShare page as your release becomes live (playable) on them:
Please note: if your release is taken down from any of these stores, that link will not be removed from your LinkShare page!
How do I find my LinkShare page?
Your eligible releases will have a link icon on their cover art thumbnail in both the releases section of your TuneCore Dashboard (shown below), as well as on your Discography page.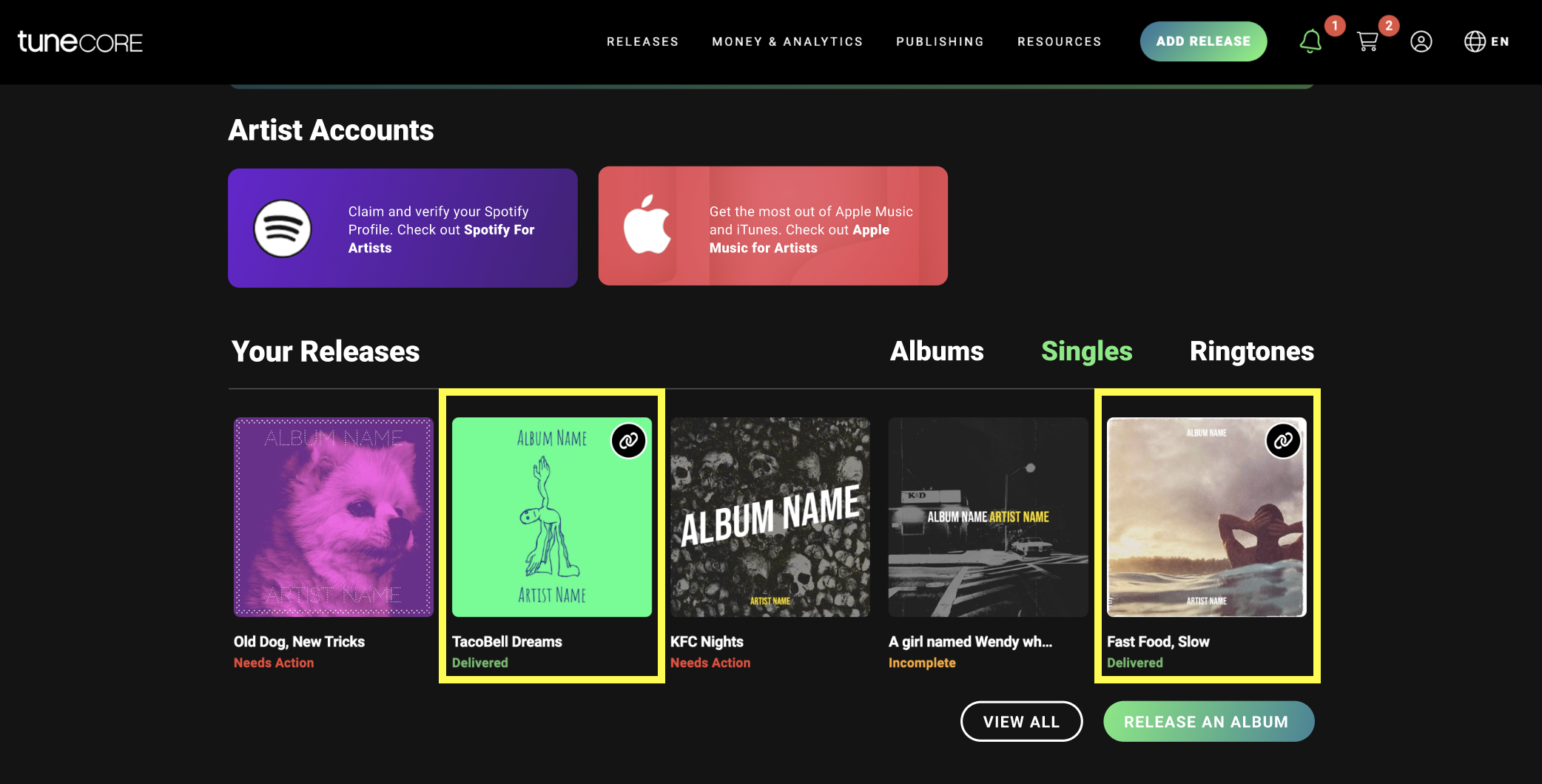 Why can't I create a LinkShare from my Dashboard?
If you don't see the LinkShare icon shown above on your release, it isn't eligible for LinkShare, most likely for one of the following reasons:
The release is an album or ringtone (only singles are eligible)
You are a TuneCore Social user (TuneCore Social has a separate linkShare feature that takes the place of this one!)
The release isn't playable in at least one of the LinkShare stores yet (once it is, the icon will appear)
Can I see analytics about my LinkShare page?
Unfortunately, we don't offer LinkShare analytics at this time. You won't be able to see how many clicks/saves/views your LinkShare page has driven.
Can I customize my LinkShare page?
LinkShare pages are not customizable at this time. Each page will show the single's cover art on top, the option to copy the link to your LinkShare page in the middle, and the store links below.