What links will TuneCore create for me?
TuneCore will create iTunes, Apple Music, and Spotify links to your release within your TuneCore account. You can find them by navigating to your release dashboard, selecting your release, and looking for the "Store Links" section below your release details (on the right side of the page).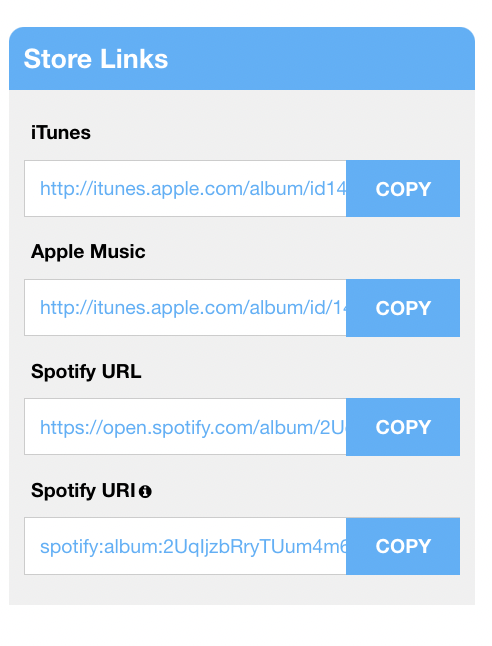 How do I find my other links?
To find your release in all other stores, you'll need to search for your release in each store.

The best way to find your release in a specific store is to enter your release title and artist name in the search bar at the same time
iTunes Links
Your iTunes and Apple Music links will be created as soon as your release reads "Live" in your TuneCore account. They are labeled "iTunes" and "Apple Music".
You may receive an error message that reads "Item not available in your region" when your links are first generated. This is because iTunes has a processing time of 5 full days, so your links will not be active until the full processing time is complete.

Please note that these links may not appear in your account until your release is actually available on iTunes. Sometimes, the link will not send you to your release on iTunes. This may mean your release is being reviewed by iTunes.

Learn more

.
You can also get a link to your release on iTunes by searching for it, right-clicking over your cover art, and clicking 'copy link.'
If you have an iTunes link to your release that is only bringing fans to Apple Music, you may have the wrong link. To fix your link so it brings fans to the iTunes Music Store, you will need to add the following to the end of your Apple Music link: ?ls=1&app=itunes
Example:
Link to Apple Music: https://itunes.apple.com/us/album/blacked-out/id999999999

Link to iTunes download store: https://itunes.apple.com/us/album/blacked-out/id999999999?ls=1&app=itunes